Lag B'omer is a Jewish/Israeli holiday, and a super cool one. The name means "the 33rd day of the 'Omer'". The Omer refers to the period between Passover and Shavuot. Traditionally, Jews count each day during this time in order to connect the exodus from Egypt (Passover) with the festival that commemorates the giving of the Torah on Mount Sinai (Shavuot).
We celebrate two things:
On Lag B'Omer, Israelis celebrate the revolt of Shimeon Bar-Kohva against the brutal Roman Empire in Israel.
More traditionally, Jews celebrate a day-long remission of a historical plague that nearly wiped out all of Rabbi Akiva's followers.
Both these events happened around 160 CE in Israel.
This holiday is all about getting together with friends and family, sitting around the fire, playing with bows and arrows, singing songs, telling stories and, of course, about food.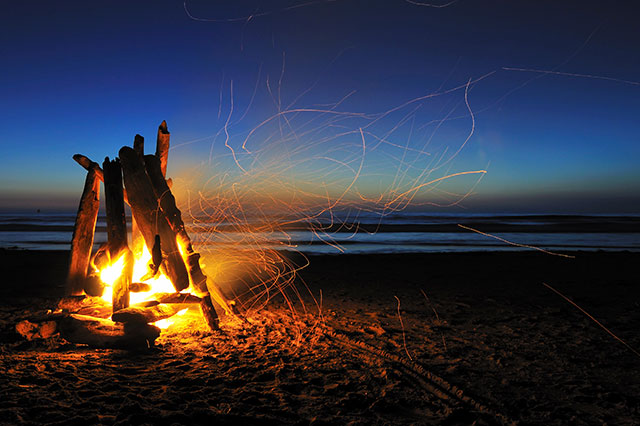 What we do:
Surely there is something beyond food..
Bonfire
During the Jewish revolt against the Romans, the rebels used bonfires and smoke signals to communicate with one another while hiding in caves.
Bow and Arrow
Bows and arrows were used as weapons during the rebellion. The bow is the shape of a rainbow, which also symbolizes the pause of a deadly plague on the 33rd day of the Omer. As in the story of Noah, the rainbow is God's symbol of peace.
Singing
Well, that's just something we do around bonfires :). We have a few cool Hebrew songs and and why not throw in some of your greatest hits?
Bow & Arrow
Follow this video to build you bow and arrow kit*
*Disclaimer - This is designed with safety in mind, but use at your own discretion.
Songs in english
Ok, this is a new tradition: classic rock songs about fire. :)
Light My Fire / The Doors
We didn't start the fire / Billy Joel
Burning down the house/ Talking Heads
Ha'Finjan / Yaffa Yarkoni