Regular price
$295.00
per holiday
Regular price
$52.90
Sale price
$295.00
per holiday
Unit price
per
A fun, engaging, and educational way to celebrate both the main Jewish holidays and additional delightful holidays and traditions, 8 holidays a year in total.

Free regular shipping
Share
View full details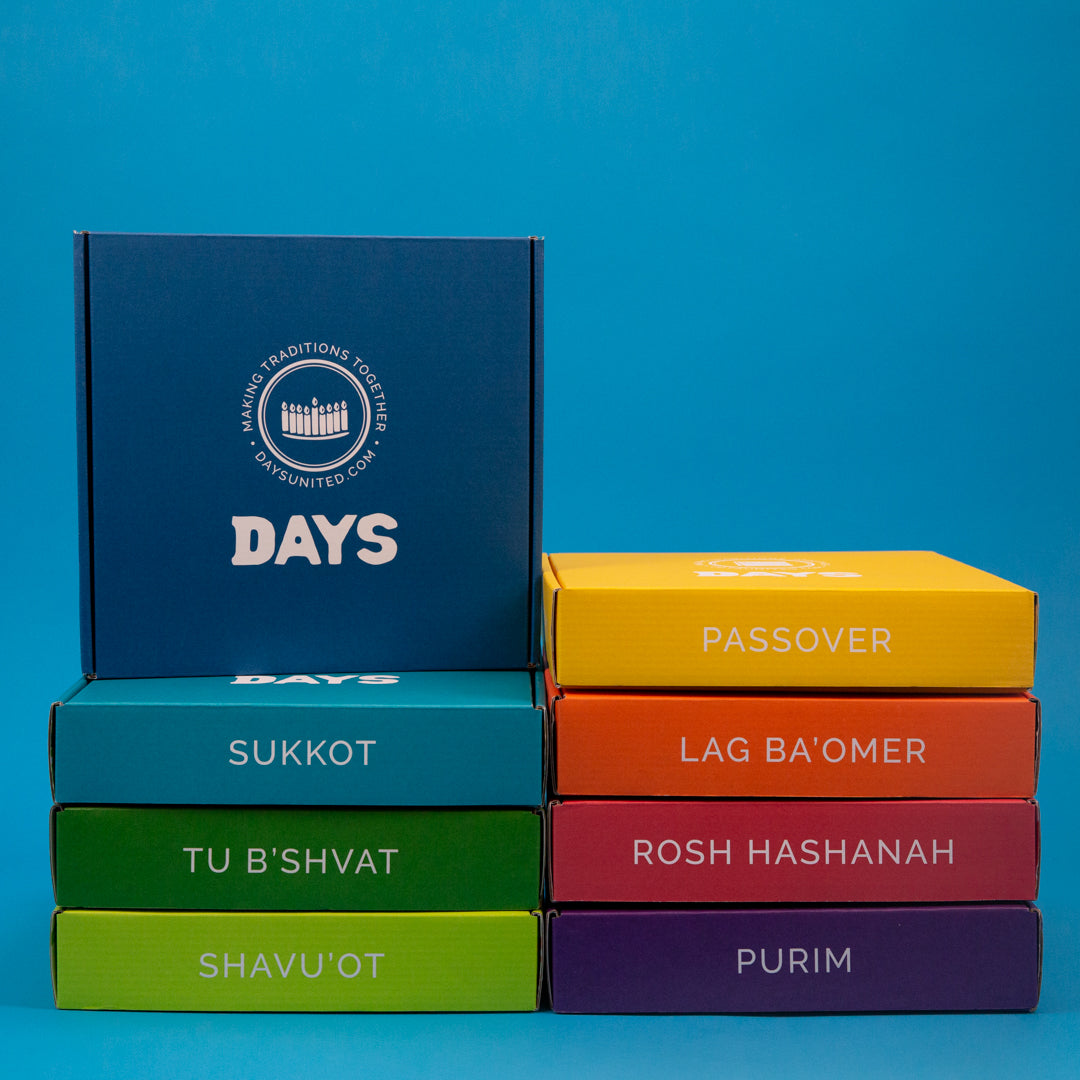 Receive a box in time for each holiday and engage the entire family in the celebration
Boxes are different every year. This is what your first year will look like:
1
Celebrate Hanukkah - the Jewish festival of lights
Celebrate Hanukkah with this super fun kit. It comes with everything you need to engage the entire family in traditional activities, as well as introduce a few new ones that even the kids can do. Cast your own Rock of Ages Menorah out of plaster, Make a bright and modern dreidel to play the classic game while you learn about mixing colors, count the days with special color-coded candles, and more...
Limited inventory
2
Celebrate Tu B'Shvat, the Jewish birthday of the trees
Enjoying the beauty of nature is a wonderful way to bring a smile to your face every day. And on Tu B'Shvat, a Jewish holiday celebrating the birthday of trees, we celebrate this gift by planting trees. Our Tu B'Shvat box has everything you need to celebrate the Jewish Birthday of the Trees in style. We'll set you up for a super fun seder celebration, let you plant your own citrus tree, play with a tree balancing game, and much more!
3
Celebrate Purim, the Jewish masquerade festival
Purim is the perfect time to let your hair down. Celebrate like a real pro with this box packed with special activities for the entire family, including a set of DIY costume ears and edible Purim masks (yes! edible!!). You'll have no problem getting into the spirit of things with help from these fun crafts, art projects, and play ideas.
4
Celebrate Passover, the Jewish exodus festival
Passover is the Jewish spring holiday that recalls the Biblical story of the Israelite's exodus from Egypt. With this box you will experience this journey by learning about the Ten Plagues, baking matzas, retelling the story during the Seder, and more. 
5
Celebrate Lag Ba'Omer, the Jewish bonfire festival
Enjoy some fun family time with this Lag Ba'Omer in a Box. It gets the kids excited about the celebration by crafting their own bow and arrow, shooting at a special canvas target, folding a paper bonfire, and more. The fun continues when they use their new skills to decorate their own creations!
6
Celebrate Shavu'ot, the Jewish summer harvest
Seven weeks after Passover, we arrive to the holiday of Shavu'ot, awakening to the bounty of summertime and the joy of learning. In Hebrew, the word "Shavu'ot" means "weeks." During this festival, we gather with friends, family, and neighbors to enjoy dairy-filled feasts and late-night conversations.
7
Celebrate Rosh Hashanah, the Jewish New Year
Embrace the spirit of Rosh Hashanah with our Rosh Hashanah in a Box™, your ultimate celebration kit packed with engaging activities. From creating personalized "Greetings in a Jar" to crafting edible pomegranate pixel art and delving deep into self-reflection with our Book of Tshuva, we offer unique and immersive experiences. The kit also includes an interactive Ceremony Guide with illustrations by the acclaimed Batia Kolton, a 9-feet-long coloring table runner, a comprehensive holiday guide, and a collectable Bee Design charm. Elevate your Rosh Hashanah celebrations with our innovative and meaningful box of festivities.
8
Celebrate Sukkot, the Jewish fall harvest
Sukkot celebrates the fall harvest and honors the forces of nature. This box has everything you need to celebrate it like a pro and engage the entire family in the celebration! Build your own pop-up mini sukkah, bake & shake the Four Species, feel good by making a very long felt chain to decorate your Sukkah, and more... 
How Subscription Plans Work
Subscribe to your favorite cultural holiday plan

Receive a box in time for each holiday

Celebrate and make holiday memories with your family
Individual Holidays in a Box™ included in Jewish All Holidays Plan x 1 Year